I wanted to do another post about making sourdough bread. Since my first How To Make Sourdough post and the Update, I've learnt quite a lot and continue to do so.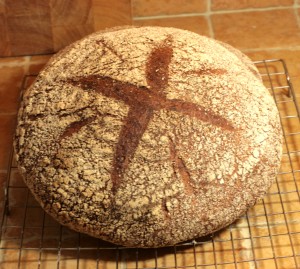 I've now got more experience handling different flours and doughs. I've tried different ways of developing the dough, folding, kneading and no-knead.
What I now have is a method that I'm pretty happy with and which produces a consistently good loaf for our daily bread. It's a bit different from what I used to do. I've been asked quite a lot now for my normal method which I've emailed to people. One email recipient, Carla Tomasi, suggested that the method would make a useful blog post and encouraged me to sort it out. So here it is.
Before I start, just to say this post will just cover the ingredients and method. I'll leave the explanations to another post for those that are interested. So if you wanted to print this off, there will not be loads of extraneous information. I hope that's ok.
Want to have a go? Read on…
How to make sourdough bread recipe
This quantity makes two loaves. The amount of water is not so high that the dough is impossible to handle. It will start sticky and improve as the dough 'develops'.  So please don't add lots more flour. You'll find it much better to work with wet hands or to oil your hands and the work surface.
Ingredients
200g active starter (made with equal weights of flour and water) See here for how to make a starter.
625g warm water
900g strong white flour
100g spelt or strong wholemeal flour (or you can just use all white)
20g sea salt, finely ground
Method
Put the starter and water in a bowl and mix. Add the flour and mix until all the grains of flour are wet. I use a dough scraper to help me do this.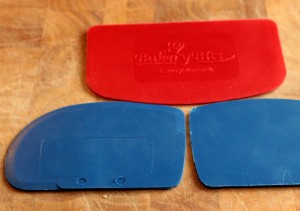 A big spoon or your hands will both work well.
You should now have a sticky, shaggy mass.
Leave for 20-30 minutes.
Add the salt and mix well so the salt is well distributed.
Cover with oiled plastic and leave for 1hr.
Fold the dough like this video.
This is your first fold.
Cover with oiled plastic and leave for 1hr.
Fold again for your second fold. Cover with oiled plastic and leave for 1hr.
Fold again for your third fold. Cover with oiled plastic and leave for 1hr.
During the folding, the dough should change in feel from a shaggy mass, to putty like, to a resilient and elastic feel. You should be able to see and feel bubbles in it. If, after some practice, you feel it's not getting strong enough as you go through, give it some more folds on one or more goes. Eventually you'll not be able to fold the dough and so it tells you when it's had enough.
Then divide the dough in two and roughly pat out into a rectangle, round or oval depending on what you want the final shape of the loaf to be: long, round or batard.
Leave for 30 minutes covered in oiled plastic.
Make the dough into your final shapes and put into proving baskets/bannetons or onto baking parchment and cover with oiled plastic and a tea towel. If you're using proving baskets/bannetons make sure that they and the tops of the loaves are well floured with either rye or rice flour. Using these flours will help make sure your dough does not stick. Normal flour tends to absorb more water and is much more likely to stick.
Here's how I shape a round boule and use a banneton.
Allow to prove for 1½ to 4 hours. This time really will depend on the temperature. What you are looking for is for the gases produced by the fermenting yeast to still have some power. When the loaf is first made, the dough is very resilient. If you press it with a finger it will push back and fill the dent. The longer you prove the less pronounced this effect is. Ideally, you will pop the loaf in the oven before the dough ceases to push back. You'll learn to judge the timing the more you bake. It's worth saying that with sourdough you will not get the dramatic 'doubling in size' you see in some other yeasted bread recipes. Look for a 25-50% increase
About 45-60 minutes before you bake, preheat your oven to highest setting. When you first start, judging this time won't be easy so err on the side of being early rather than late. Starting your loaf off in an oven that is not hot enough will not get you good results.
I bake on a granite stone which gives good heat to the bottom of the loaves and a good crust and rise. You can use ceramic tiles, pizza stones or preheated oven trays for a similar effect.
If possible put a tray of boiling water on lowest tray below where bread will bake 10-15 mins beore you start baking to create steam.
Here's how I set my oven up with the granite stone above a shelf on which I put a wide oven tray containing some boiling water.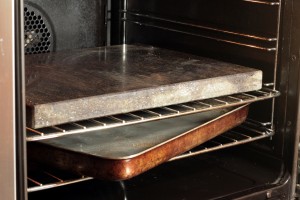 Do be careful as you transfer the tray to the oven.
When loaves are proved, slash the tops and pop in them in the oven and turn it to 230°C. Bake for 15 minutes.
During this time the loaf should rise appreciably.
Then take out the water tray and turn down the heat to 200°C and bake for another 30 minutes or so until you are happy it's baked right through. I tend to bake my loaves for 50-55 minutes so the crust is good and crackles when it comes out of the oven. If you don't like such a robust crust, then you can cook the bread for 40 minutes or so.
Take the bread out of the oven and allow to cool on a rack. If you like crust, then leave it uncovered until it's cool. I f not, you can put a clean tea towel over the bread and this will ensure a softer crust.
That's all there is to it.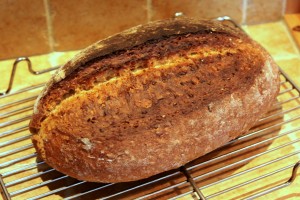 Kamut sourdough loaf
Finally, I promised in this post about the Kamut loaf to say how I made it.
The only variation to the above recipe was as follows:
I used 800g strong white flour and 200g of kamut flour.
The higher percentage of non-white flour and the fact that it absorbs more water meant I increased the water to 640g.
Everything else is precisely as the recipe above. Here's the crust and crumb of the loaf.