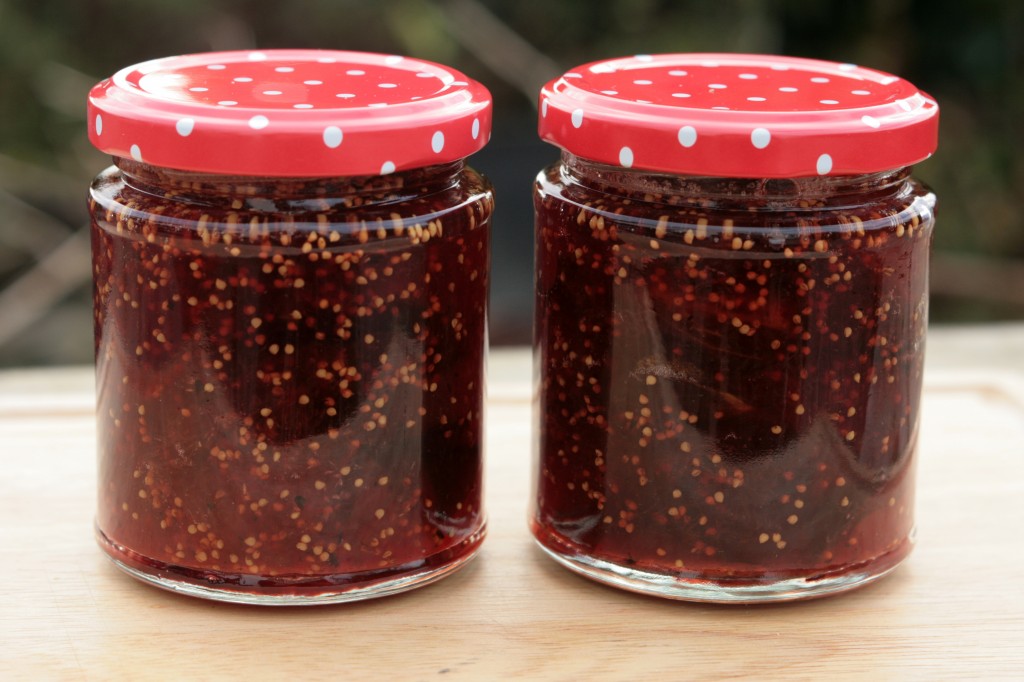 As you can see, the figs produce a wonderful colour and texture. The fennel gives a lovely background warmth with the bay. The coriander provides generous light bursts of flavour.
The story behind this jam is that I had the good fortune to receive a present of a jar of fig, vanilla and ginger jam from my friend Lyndsey. It was delicious and I was keen tomake some fig jam myself.
I didn't want to repeat Lyndsey's creation (as if) and so wanted to come up with something different. I consulted one of my jammy-mentors Vicky at JamSmithClub. She suggested partnering it with fennel and bay as a seasonal combination. The idea was excellent as I have my own bay and have been drying my harvest of fennel seeds. In my spice drawer the coriander seeds are next to the fennel and they partner very well so I used some of these too.
I consulted my copy of Thane Prince's Jams & Chutneys for sugar, acid & pectin quantities and cracked on. Here's what I did.
Fig jam recipe with fennel, coriander and bay
These quantities made about 1.5kg of jam. So you will need enough sterilised jars with lids or covers for this amount.
Ingredients
1 tsp fennel seeds
1/2 tsp coriander seeds
4 bay leaves
1kg fresh, ripe figs, de-stalked (and de-buttoned if necessary)
900g white granulated sugar
Finely grated zest of 1 lemon
Freshly squeezed juice of 2 lemons
100g pectin stock.
Method
Put the seeds in a small saucepan or frying pan and dry roast until they pop. Grind coarsely in a pestle & mortar or using a bowl and rolling pin, or the side of a jam jar.
Tear the bay leaves from edge to middle without breaking the leaves.
Cut the figs into small chunks. The size is up to you depending on the maximum size of 'bit' you fancy seeing on your toast.
Put the ground spices, bay leaves, figs, lemon zest and juice in a big pan.
Simmer the figs until the skins are tender about 30-45 minutes.
Remove the bay leaves from the mix.
Add the sugar and heat gently, stirring until the sugar has fully dissolved. Add the pectin stock and bring the mixture to a rolling boil.
Boil hard until the jam reaches setting point, tested by your favourite method.
Pour into your sterilised jars. cover and label.
If you make this, do let me know how it goes in the comments below.