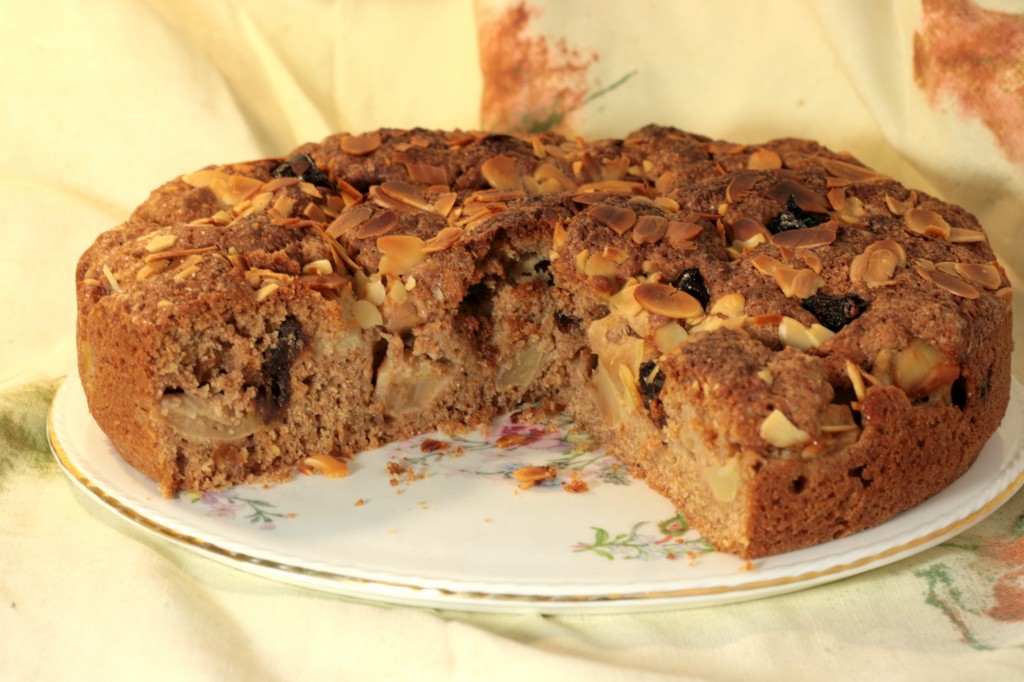 This cake is so simple and stunningly satisfying. It has a crunchy top and moist inside. The flavours are pleasingly complex with spicy sweet/tart apples contrasting with rich toffee-like roasted dates. The spelt flour and almonds give the cake a substantial nutty body.
It tastes great warm straight from the oven or cool later on. We like it a lot and have been known to eat it for breakfast.
The recipe originates from my mother-in-law who is a superb purveyor of cakey delights. She gave me the recipe for a German Apple Almond cake that we've been enjoying for years. I thought I take that basic recipe and give it a twist. I hope she approves.
It really is a doddle to make. Would you like to know how? Read on…
Welsh-German apple & almond cake recipe
You'll need a 28cm spring form cake tin or similar lined with greaseproof paper.
Preheat your oven to 160°C with the shelf in the middle.
Ingredients
225g butter melted
4 tsp baking powder
350g wholemeal spelt flour (or use white plain flour or a mix of white & wholemeal plain flour)
1 tbsp ground cinnamon
1 tsp ground cardamom (or to taste)
225g caster sugar (the golden works well in this)
3 medium eggs
1½ tsp almond essence
500g apples, weight when peeled cored and cut into approx 2cm chunks
100g dates cut into bite sized pieces
50g flaked almonds
Method
Prepare the apples first and let them rest in some acidulated water so they do not brown.
Melt the butter in a small pan or in a bowl in the microwave. Allow to cool a little.
Sieve the baking powder, flour, spices and sugar into a bowl.
Beat the eggs in a small bowl and add the almond essence and mix to combine.
Add the egg/essence mixture and the butter to the dry ingredients and mix well so that the ingredients are well combined and smooth.
Spread a little over half of the mixture into the prepared cake tin.
Distribute the apples and dates evenly over the cake mixture.
Dot the top of the fruit with big blobs of the remaining mixture. You want to leave some fruit uncovered so that it caramelises in the heat.
Sprinkle over the flaked almonds.
Bake for 1½ hours until nicely brown and crisp on the top and shrinking away from the sides of the tin.
Take out of the oven and remove from the cake tin and remove the paper.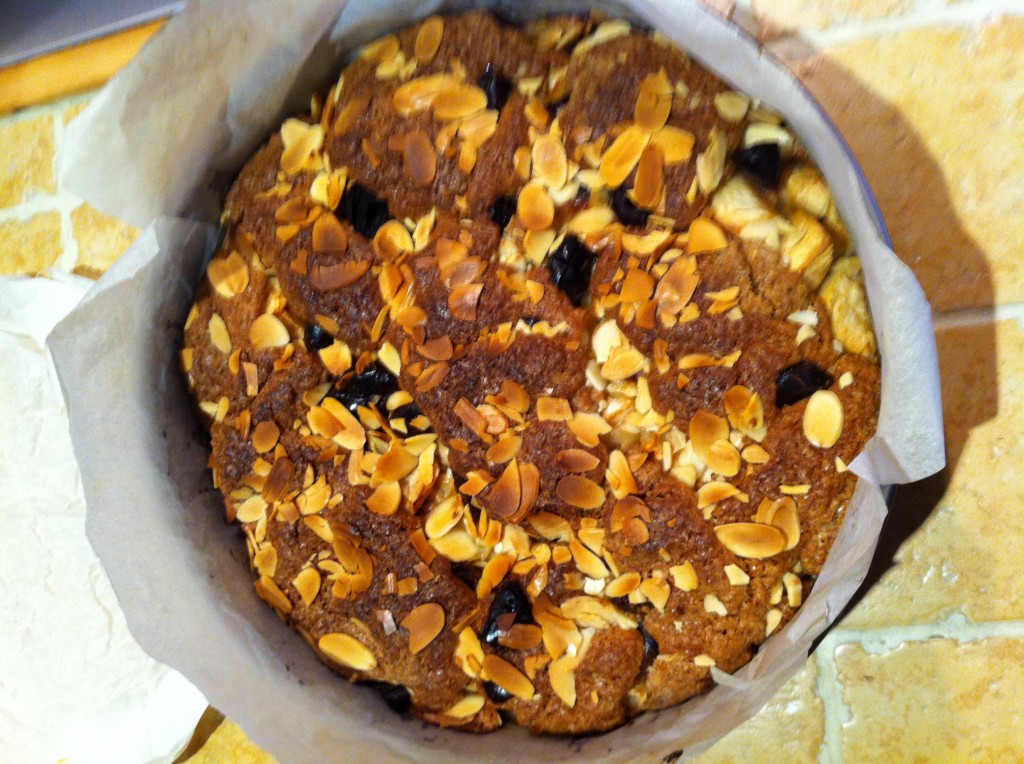 If you are going to serve the cake warm, place on a plate. If not, pop on a cooling rack until it is cool. Great served by itself or with crème fraiche and/or custard.
If you have a go at this, do let me know how you get on in the comments below.
Updates:
This from Rebecca Sandover for a Forest School celebration: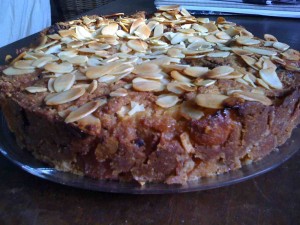 And this from Carla Tomasi in Rome (with added cranberries, figs & apricots and an icing sugar topping). I'm told the first cake didn't last the hour…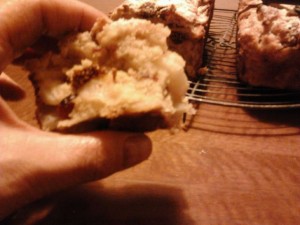 This one from Betty Mahoney, foodie & journalist in Cardiff who made this for her husband's birthday and took it on holiday with her: