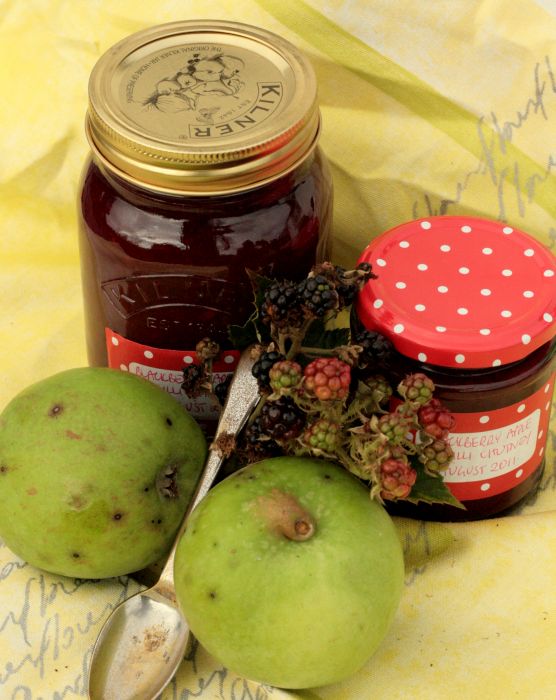 This produces a chutney that has a rich, intense and complex flavour: blackberry plus. And the colour is a deep vermilion that is striking on the plate.
I first used it as a condiment with a cheese platter and the sweet-sour-chilli flavours complemented the cheese and sourdough bread spectacularly.
I next used it to deglaze a frying pan after flash frying some sirloin steak. I then added a little creme fraiche, seasoning and the meat juices to make a rich fruity sauce for the steak.
I wanted to produce something with blackberries that wasn't in the usual jam or jelly area and that could be used happily as a savoury accompaniment. I found some blackberry chutney recipes but none had the complexity of flavour I was looking for. So I made up my own recipe.
If you are really lucky you can forage and grow most of the ingredients, so it could truly be your chutney.
Like to have a go and treat your taste buds? Read on…
Blackberry, apple & chilli chutney recipe
Ingredients
This made about 1500ml of chutney. You can scale the recipe to suit the amounts you have available.
700g freshly picked blackberries, stalks removed and washed
700g apples washed and roughly chopped, including skin, cores and pips*
1 tbsp vegetable or rape seed oil
2 tbsp brown mustard seeds
2 or 3 (or more) fresh chillies, finely chopped (you could use dried too)**
2 red onions (about 150g) peeled and finely chopped
2 or 3 (or more) garlic cloves, peeled and finely chopped or grated with a medium microplane
30g fresh root ginger, scraped and finely chopped or grated with a medium microplane
300ml best quality cider vinegar (I'll do a post soon on how to make this – so easy)
300g sugar (I used golden caster sugar)
1 tbsp ground mace
*I used some windfalls from a cooking apple tree, crab apples would be good too. Use what you have available.
**A tip prompted by feedback from an early maker of this recipe. You need to judge the heat of the actual chillies you are using to make sure you don't overheat the chutney. Have a little taste of the chillies first and make a judgement about the total quantity. Chilli heat varies so much that it's impossible for me to give a precise quantity.
Method
Put the blackberries and chopped apples in a pan and bring gently to a simmer. You shouldn't need to add any extra liquid, the blackberries will produce enough juice. Simmer the mixture until the apples are soft.
Put the pulp through a food mill or coarse sieve to get rid of the pips, skin and core. It's a nightmare trying to push this through a fine sieve.
In a clean pan heat the oil over a medium heat. Add the mustard seeds and fry until they pop. Then add the chillies, onions, garlic and ginger and sweat gently until the onion is soft & transluscent.
Add the vinegar and sugar and heat gently until the sugar has dissolved.
Then add back the fruit pulp & mace and bring back gently to a simmer. Simmer for about 20 minutes until the chutney thickens slightly.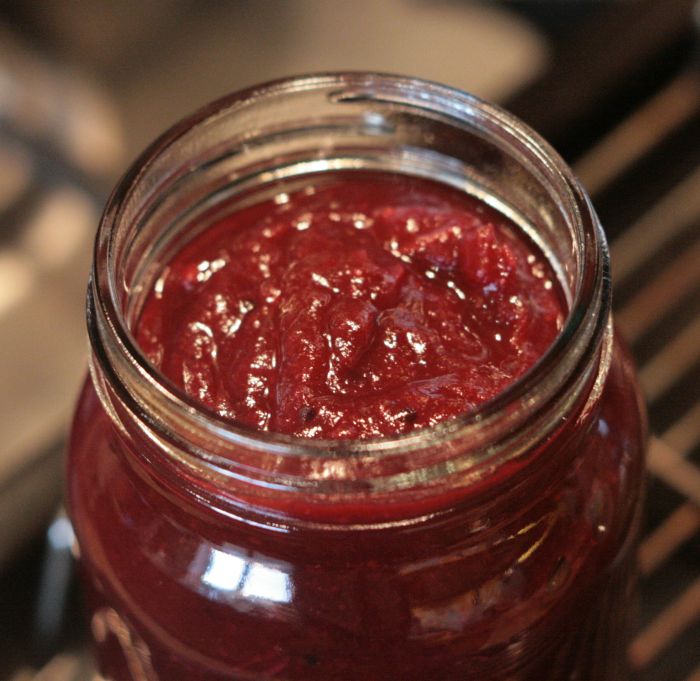 Pour while warm into warm, sterilised jars and seal.
Store in a cool, dry dark place.