This is a wonderfully moist, tasty and nutritious start for your day full of fruit, nuts & spices. It's also a great mid-afternoon snack for when your energy levels are dipping.
First thing to say is that the original idea was not mine. This recipe is a sourdough adaptation of Ed & Marieke's yeasted muesli bread which you can find on their beautiful blog. Their recipe is lovely and will be useful to you if you are in more of a hurry to produce the breads. Obviously, there's differences in the taste.
Fancy finding out how to make it?
Read on…
Sourdough breakfast bread recipe
This recipe makes two approximately 900g loaves
There are two major components. First, you make a 'soaker': a mixture of fruit, nuts & grains (the muesli) which you pre-soak so that it does not take water from the dough. Second, you make up the white & spelt sourdough. Then you combine the two.
For the soaker
Ingredients
Dried cranberries 40g
Hazelnuts 40g
Pumpkin seeds 40g
Raisins 40g
Jumbo oats 40g
(You can use whatever you fancy really for your muesli to the total weight of 200g)
Boiling water 200g
Method
Mix all the dry ingredients in a bowl. Add the boiling water, stir and leave to soak & cool.
Dough
Ingredients
100% hydration sourdough starter 208g
Strong white flour600g
Spelt flour 256g
Ground cinnamon 2tbsp
Fresh ground nutmeg – about half a nutmeg
Water (warm) 200-250g (depends on how you feel handling the dough, wetter is better)
Yoghurt 200g
Salt 15g
Method
Mix all the ingredients, except the salt, together until you have incorporated them all. Leave for 20-30 mins.
Add the soaker and salt and squidge together until well mixed.
Then stretch & fold the dough (see videos in this post for details) at 30 mins and then on each hour for about 4 hours in total.
Divide the dough into two equal parts and shape into rounds. Place in well floured banettons or bowls with well floured towels. Cover with oiled plastic so they don't dry out.
Place in a warm place and prove for 2-3 hours depending on temperature. They should increase in size by about another 50% or so.
Turn out your dough onto baking sheet and slash to your artistic taste. I can fit two loaves on my baking stone. You may have to do one at a time, in which case, pop one of the loaves in the fridge while the other cooks.
Bake at (fan) 230°C for 10 mins, spritz with water once or twice.Then turn oven down to 200°C for 30 mins depending on your oven.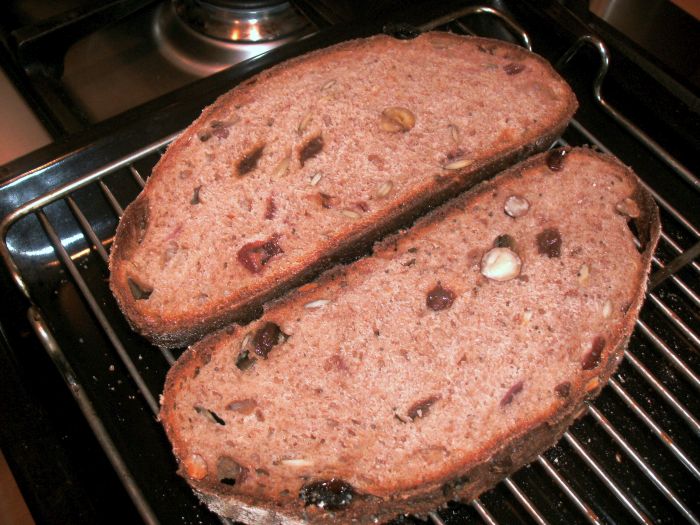 Hope you like them. I would love to see how you get on, so please do send or link to pictures. All suggestions for improvements very welcome.
Update 26 June 2011: This post has just been featured on the really informative Northwest Sourdough, Discovering Sourdough gallery run by the inspirational Teresa Greenway. Do have a look around there because there are some really great bakers' produce shown there. Teresa's main site is also an essential visit if you're interested in sourdough.