The backstory
I planted some turnips in August closely spaced to give us some young turnip tops for salads. They were yummy with a bitter, mustardy taste – as you'd expect from a brassica. As they got older I used the tops as a green veg with olive oil and garlic and stirred through pasta sauces. Now the tops are a bit too bitter and so I'm successively thinning them out to use the gently swelling bulbs. Having fixed on the turnips (navets if you're feeling Francais about it) I needed the rest of the meal…
Lamb and turnips are a perfect partnership. The sweetness of the lamb compliments the slighty bitter touch of the turnips. And lamb and rosemary are made in foodie heaven. Fortunately, I'd picked a half leg of Welsh Anglesey Lamb (nice and local) from the supermarket close to sell by date. A 12GBP hunk reduced to 3GBP – bargain. So I had the skeleton of the meal. I picked the ingredients outisde so what happened next? Read on…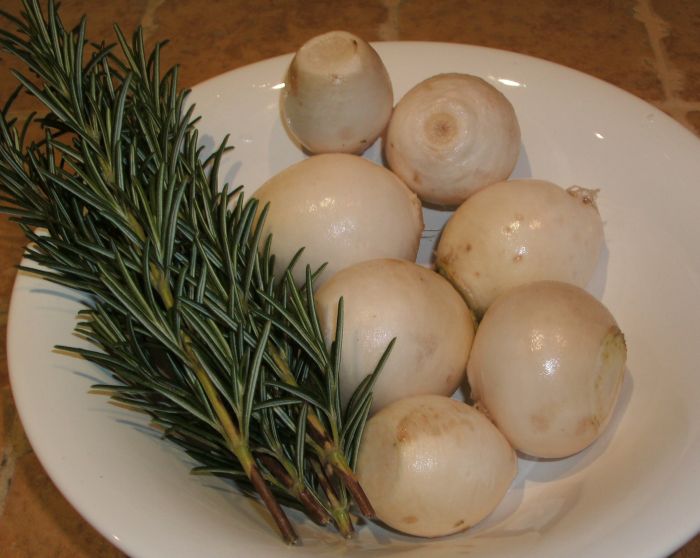 Warm and spicy pot roast lamb with baby turnips recipe
So what do you do to put this warming, comforting dish together? This quantity would serve about 4 (conversions approximate)
Ingredients
Leg of lamb boned and in a piece – 1 kg (2lb)
Baby turnips – large handful, like the picture
Rosemary – 4 sprigs or palmful of dried
Shallots – large handful
Carrots – 1 or 2 depending on size
Celery – 2 sticks
Garlic – to taste, I used 3 thumb sized cloves
Tinned tomatoes chopped – about 450g (1lb)
Chick peas – 1 tin about 450g (1lb)(or you could use any other pulse such as haricot or lima beans)
Ground cinnamon – to taste, I used a generous tablespoon
Olive oil
Salt and pepper – freshly ground, to taste
Method
Heat an oven to 150°C (300°F)
Chop the shallots, garlic, carrots and celery roughly into chunks. You'll put the turnips in at the end, so leave these to one side for the moment.
Get yourself a heatproof casserole deep enough to take the lamb and just big enough to fit all the other ingredients. Put the casserole on a high heat and when warm add a splash of olive oil. Brown the lamb on all sides, remove and set aside. Reduce the heat to medium, add more oil if necessary add the chopped vegetables and three of the rosemary sprigs to the casserole and saute gently unitl they are lightly browned and softened. Add the cinnamon to the vegetables and stir continuously until the veg smell warm and fragrant.
Tip in the tomatoes and mix with the vegetables.
Nestle the lamb gently into the sauce so it feels warm and cosy.
You may need to add a little water just to ensure that there is some liquid for the hours to come. About half way up the lamb – look at the picture at the top. Bring to a gentle simmer, cover with the lid and put into your pre-heated oven.
Bake for 2 hours and try not to peek.
Take out the casserole and check that the lamb is cooked it should be really tender and fragrant. Put back for another half hour if necessary. (If you've cooked a bigger bit of lamb somewhere between 2-3 hours will be fine. Longer than this, and the lamb will actually fall apart, nice if that's the effect you want.)
Once the lamb is cooked, cut the turnips into chunks depending on how big they are. Look at my picture, I quartered some, halved others and left the diddy ones as they were.
Add the drained chick peas to the top of the casserole and then place the turnips on top. Put back in the oven for about 20 minutes until the turnips are tender when you test them with a knife.
Chop the remaining rosemary very finely as a garnish.
Take out the lamb and carve into slices or chunks as you prefer. Serve the lovely veg to the side and on top. Garnish with the rosemary.
Serve with crusty bread and a beverage of your choice.
Buon apetito!