We did things a bit different for this coming season. In the past we've bought seed from one or more of the bigger seed suppliers. Their service has been fine so nothing to complain about there.
We wanted our small purchases to say more about what we valued and supported so we've changed our approach this year. Our criteria were:
support smaller companies who are family run and/or are organic or sustainable specialists

spread our business around

seek out varieties more suited to our area.
In addition, we wanted to start saving seed so we didn't have to buy so much in future. This would be more sustainable and would allow us to choose plants with characteristics that suited our conditions. As a result, we decided not to buy any F1 hybrids as these do not produce true.
I'll update you about germination and quality as the year goes on. So for now, some comments about the customer experience.
The chosen few…

Nicky's Nursery is a Kent based, six-person firm. We bought 12 items from them, mostly salads for autumn planting and also a chilli collection. The web site is reasonably easy to navigate and order from. Their delivery service is excellent.
The Real Seed Catalogue is a Wales based seed 'collection'. In the EU we have some dodgy laws about what seed varieties can be sold. I'll blog about the stupidity for biodiversity and sustainability of this at another time. This means that Real Seeds get you to join their club for a penny and then you can buy seeds held in the collection.
They advocate and encourage you to save seeds. It's run by Kate & Ben who have a small network of growers working for them. We never actually got the catalogue they promised, but the web site is easy to use and order from. Delivery was great and the seeds come with instructions for how to save seeds. We've got some interesting tomatoes from them too – so more of that later.

The Organic Gardening Catalogue is the commercial arm of the Henry Doubleday Research Association. They've now rebranded as 'Garden Organic'. I'd be interested to know whether the expense of the rebranding is justified by the increase in business… They're not a family business like the others, but they're not corporate giants either. And the ethos they espouse is just up our street, so they are the place to go.
The web site is the swishest and is easy to use. They were the slowest to deliver of all the companies, so much so I had to phone to find out about delivery. Not all the items were in stock so we have some on back order.
We're also members of the Heritage Seed Library which is part of the HDRA. Because of the EU laws above they can't sell some varieties. So you become a member and then get to choose up to 6 varieties of seed from their heritage library which you can grow and save seed yourself. This means that old varieties are saved. We've applied to be 'Seed Guardians' who look after some particular varieties and supply the seed back to the HDRA to keep the bank alive. More on this later.
Finally, there are the fine people at Seeds of Italy. They also supply in other countries including the USA and Australia – the link I've given takes you to a page of there international web sites. The company is run by the delightful Paolo Arrigo – a London Italian. It's a true family business. The web site takes getting used to – and not a problem once you're familiar with it.
Delivery was quick and the seeds are beautifully and instructively packaged. They are also packed in huge quantities – so we share with friends.
There was a mistake with the order – a carrot variety had been transposed with another and Paolo's recipe book that I had ordered two of, only one arrived. The real test of a company is how they deal with mistakes…
I called, Paolo answered. Good start, the boss (and author) answers the phone. I asked Paolo if he wanted my order number to trace it. He said: "We're Italian, we don't deal with numbers we deal with people. What's your name?" He remembered my order and I explained the problem. He apologised and explained how most of the items are 'one's of', and how the carrot picking had been a mistake – he'd send the right one straight on. I explained that the book was intended as a Christmas present and so it was important that I got it soon so I could send it on. Paolo said: "No problem I'll send it straight away, would you like me to sign it for you with Buon Natale?" I did, so did he. Perfect service, 'Grazie Paolo!'.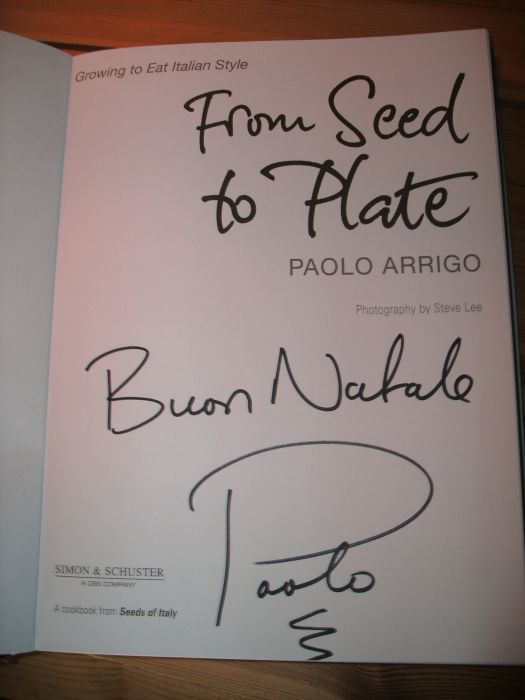 That's the adventure so far, more soon.