Hi there! Time for me to un-lurk and join the blogosphere. I've decided that now's the right time for me to join the party and contribute some ideas. A bit of giving back if you like for all the good information and advice I've gleaned over the years from the generosity of others. Also, I hope that any comments I might stimulate will be ideal feedback to ensure I record and reflect on our progress. I'm sure to learn more from whatever comments people make. My team here have also been on at me for years to write down the recipes I create, so I'll do that too. So what about us? We' is my wife of 20 years Debs,our son JJ and me. We look after 3 acres on the gentle slopes of a small mountain on the Llyn Peninsula in North Wales. We also currently look after 5 Light Sussex chickens who produce our eggs and Sian our collie cross dog who produces, well – you can guess.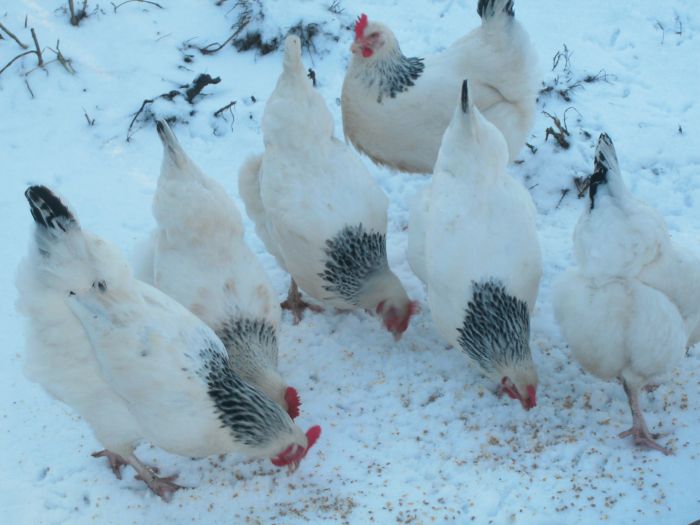 We've been keeping chickens for the last 12 years, daunting to start with and a joy now. We used to keep chickens, ducks and geese for meat too. We stopped doing that because of the level of work involved in processing. My dodgy wrist took a hit four Christmasses ago and has finally (!) just been diagnosed with torn ligaments and arthritis. We may go back to doing it, perhaps on a smaller scale than before. We so much more prefer seeing what we're going to eat growing and having a fun life before the end arrives We have a brilliant aspect facing south and west so we make the best of the sun. The peninsula is warmed by the Gulf Stream so our climate is a bit gentler than the rest of the UK. Although at the time of writing we're in a white out. Only the fourth serious snow fall in the 12 years we've been here. Part of the land is a little wooded area with ancient beech, coppiced oak and sycamore, ash, hawthorn and goat willow. We're extending that area with pioneer alder and silver birch and Japanese larch. The middle bit of the land was described by the estate agent as 'water meadow' for which read 'boggy marsh'. It's a great habitat for all sorts of animals. Some of the more unusual are grasshopper warblers (locustella naevia),adders (vipera berus) and glow worms (lampyris noctiluca). We're planting willow in the boggiest bit to harvest and use for structures and to sell. The top bit of the land has a nascent 'forest garden', bee garden, 'orchard' and the home farm where we grow our fruit and veg and keep our animals. The forest garden and bee garden are in their early stages and there's lots for us to think about and decide over the coming months and years. Our veg is grown in six raised beds about 1.2 metres (4′) by 9 metres (30′) and we're about to open two more beds 1.4 metres by 7 metres (23′). This gives us 20m2 separated with paths covered in landscape fabric and 20mm (3/4″)gravel from the local quarry. We also have a 3.7 m by 1.8m (12′ by 6′) polytunnel which is in use throughout the year.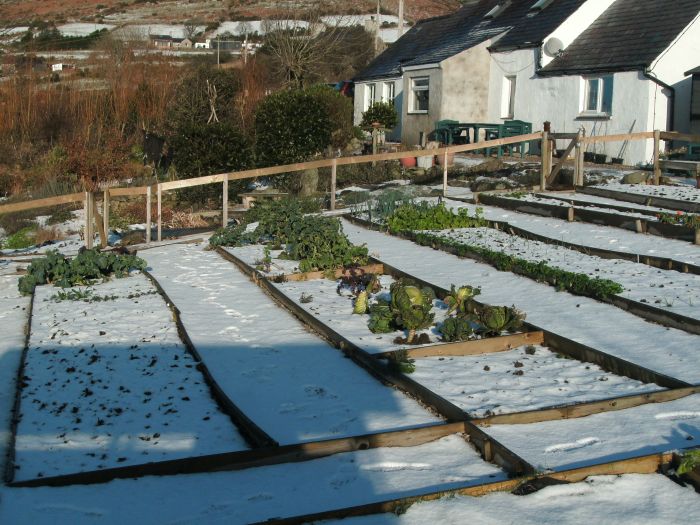 As you can see, at the moment we have in the ground cabbage, chinese cabbage, mibuna, kale, sprouting broccoli, leeks, turnips, swede, garlic, parsley. We've got fencing all round this lot. This is to keep the local rabbit population away from the crops. More of that story later perhaps! The polytunnel has various salads over wintering along with pak choi and peas for salad shoots. Looking forward to telling the story as it unfolds – feel free to let me know what you think.