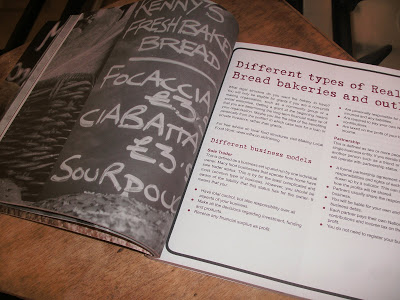 This well designed book is subtitled, 'The introductory guide to success in baking Real Bread for your local community'.
How well does it fulfill its remit?
How far along the line from interested or amateur baker to community purveyor of Real Bread can 'Knead to Know' take you?
In my view, The Real Bread Campaign are to be congratulated. 'Knead to Know' delivers on its culinary metaphor of being a:
buffet of tasters with pointers to where you can explore and find out more about the topics you find the most appetising
My view is shaped by my particular needs. As regular readers of the blog and my twitter feed will know, I'm a keen amateur baker. And I've had enough good feedback about my bread to wonder about producing bread for the wider community.
So here were the questions I was hoping 'Knead to Know' might help me answer.
How would I go about setting up such a venture?
What are the logistics of baking from home:

what's involved in scaling up domestic recipes?
would I manage using a domestic oven?

What are the rules & regulations I'd have to be aware of?
Were there tips and ideas for promoting the venture?
What product mix would be good to start with?
How would I work out product pricing and ingredient yield.
Where would I go for further information?
So how well did it do? Continue reading »