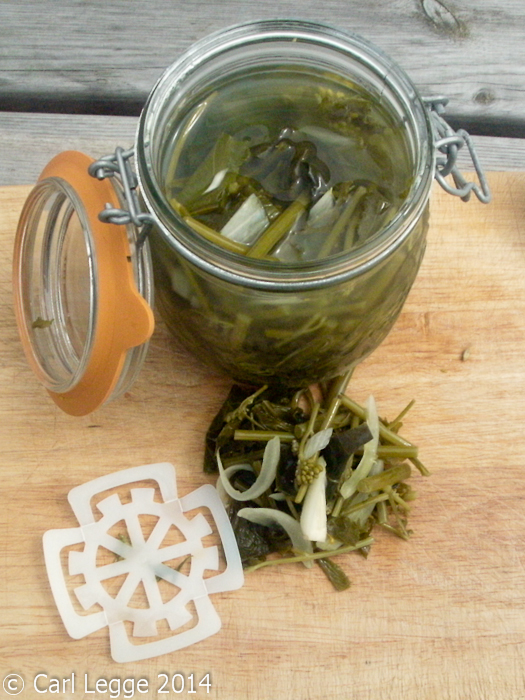 I wish I'd got to know mustard greens (and reds and goldens) much earlier in my growing adventure. They are such a tasty, versatile and good-hearted vegetable. And some of the varieties are great green manures, ground cover and biofumigants.
Here at Legge Towers we sow them in mid to late summer so that we can put them in the polytunnel to over winter. They get cut down by frost outside in winter, but in the polytunnel, sometimes with a little extra fleece protection they do fine.
They make a good quick green manure which may survive a kind winter, but you can also re-sow early in spring. Certain varieties (like Caliente) are good before potatoes as the gases given off by the leaves when cut down can help prevent wire worm and other pests – this is the biofumigant. You need to cut down and work in the leaves quickly though. More info on this here.
Just to say, we don't tend to use them in the spring and summer. This is because there's plenty else around and because we find they bolt quickly if it gets hot or dry for long (it does occasionally happen).
The mustards give us with little leaves for salads to start with. Then we get bigger leaves to use in stir fries or as a steamed/wilted veg. You can also make a lovely mustardy pesto with them. In the spring they produce wonderful flower shoots to use like sprouting broccoli.
Then, as you can see they climb!
By this time, I'm thinking of the next crop that will occupy the space for the summer months. This year, I didn't want to just compost the remains (after shredding the woodier parts). I thought I could use the more tender parts to ferment to make a tasty snack and accompaniment.
And did that work well? Oh yes. Read on to find out more. Continue reading »