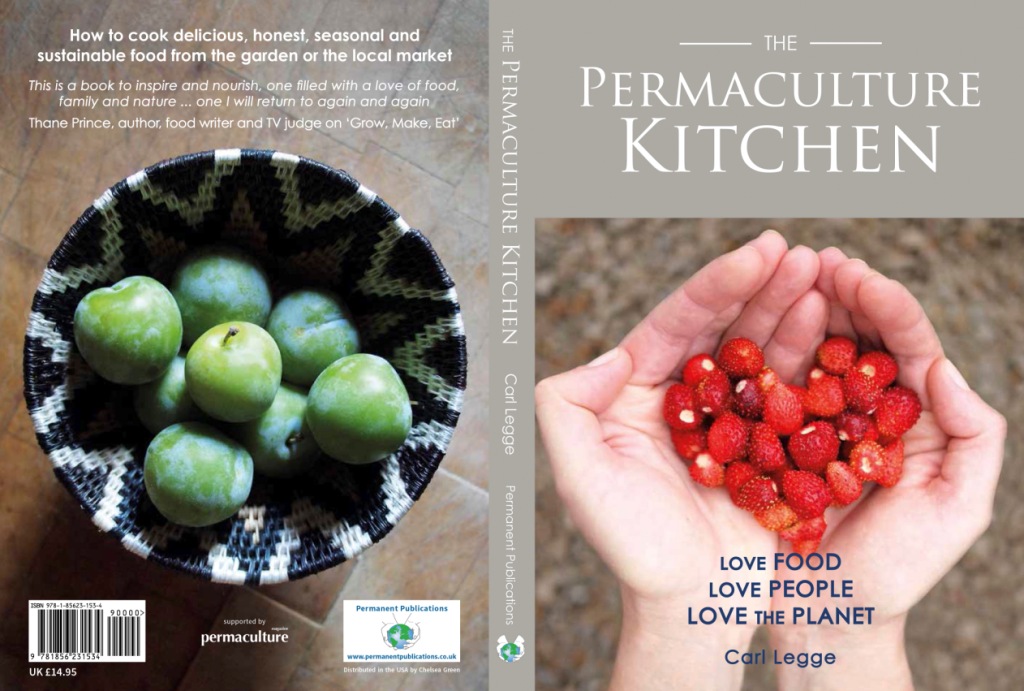 We have made lots of exciting progress on my book since my last post.
We've finished the design, layout and proofing of the book. The whole shebang went to Cambrian Printers in Aberystwyth on Friday to be printed. The pages have been printed, they now need to be cut to size, folded, stitched together and bound into the covers. Hopefully, it'll finally be made up by this time next week. That's very exciting for me (and for you I hope). I'll do my best to get to the printers and take some pictures of the final stages if I can. It'll take a little while after it's bound for Amazon and others to have stock in their warehouses.
Book launch at the Edible Garden Show
We'll be launching The Permaculture Kitchen at the Edible Garden Show at Alexandra Palace in North London on Saturday March 29th. I've been asked to do a talk and Q&A in the Expert's Theatre from 15:10. I'll be around the show before this and after to sign books at the Permaculture Magazine stand. Do come and say hello, it'd be great for me to see you there.
Signed copies
I'll be selling signed copies of my book from a special The Permaculture Kitchen section of my website. I need to get all the Paypal stuff sorted out, so I can make things nice and easy for people to buy the book. I'll be working on this over the next few days and will let you all know when it's ready.
The Permaculture Kitchen online resources
This new section will also have videos to show you how to do some of the techniques and recipes in the book along with other resources. I'll be asking for suggestions of what other things readers may find useful, so I can help people make the most of the book. I'll be working on this new section this week.
Testimonials
You can see an excerpt of a lovely testimonial from Thane Prince on the back cover. I've had great support too from Alys Fowler, Diana Henry, Elisabeth Luard, Charlie Hicks and Francoise Murat. I'll publish the full testimonials when the special book section goes live.
Here's an extract from those testimonials:
Alys Fowler, Gardener, author and TV presenter
The simple, honest, economy of a kitchen is what turns a house into a place with heart. And that all starts with a good meal that enriches the eater as much as their environment. Carl is a patient and generous teacher and this book teaches us how to make our own recipes as much as it is about following his.
Diana Henry, Author, Sunday Telegraph Food Writer, Food Writer of the Year 2013
I just love the spirit of this book. It's not just a cookbook, it's a great approach to food and to life.

Carl shows you how to get pleasure from the fundamental things. Perfect for food DIYers who want to go beyond just making gravlax, this is timely, sane, caring and delicious.
Thane Prince, Author, food writer, cookery tutor and TV judge on 'Grow, Make, Eat: The Great Allotment Challenge'
A thought provoking and interesting book, it is structured with basic recipes and building blocks which offer a myriad of variations. There are options that would work for any cook: beginner to competent, vegan to carnivore – not an easy task.
Elisabeth Luard, Trustee Director of The Oxford Symposium on Food & Cookery, author, journalist, broadcaster
Here is an inspirational kitchen how-to, by a hands-on gardener and forager for anyone who wants to live sensibly and well, whether you live on a permaculture smallholding or in the heart of a city.
Charlie Hicks, Radio & TV personality, costermonger to star chefs and Brand Manager at Total Produce
The Permaculture Kitchen takes a holistic, arguably spiritual approach to producing and cooking your own food but tempers that with a very practical, down to earth attitude, an unusual and very attractive combination. It's full of recipes that make you want to cook and that work really when you do, clearly written, beautifully photographed and easy to follow. Often there is a basic recipe followed by variations and options so that one core method builds into a whole range of dishes, an excellent way of dealing with every grower's perennial problem, the glut. The Tips and Preserving chapters will also be a big help here, packed full of good ideas for dealing with that inevitable surplus.

If you grow your own food, or want to, and care about what you eat then this splendid book most certainly has a place on your kitchen.
Françoise Murat, Professional landscape designer, teacher of gardening, rural skills and crafts
I urge you to buy this book, for its simplicity of seasonal life and its complexity in bringing variety in your cooking.
Chapter Headings
Here's an advance peek at the chapter headings:
About the author
Introduction
Easy basics
Seasonal soups
Permie pizzas
Creative curries
Quick veg for pasta, rice, noodles or toast
Grills and griddles
Eggs are easy
Salads and dressings
Bread is heaven
Preserving time
Tips
My thanks to…
Bibliography and further reading
Index
Email updates
If you would like to know when the special The Permaculture Kitchen section is live or for up to date information about the book's progress and my events, please fill in this form. I won't give your information to anyone else, I promise.
[contact-form to='cflegge62@gmail.com' subject='TPK Updates'][contact-field label='Name' type='name' required='1'/][contact-field label='Email' type='email' required='1'/][/contact-form]