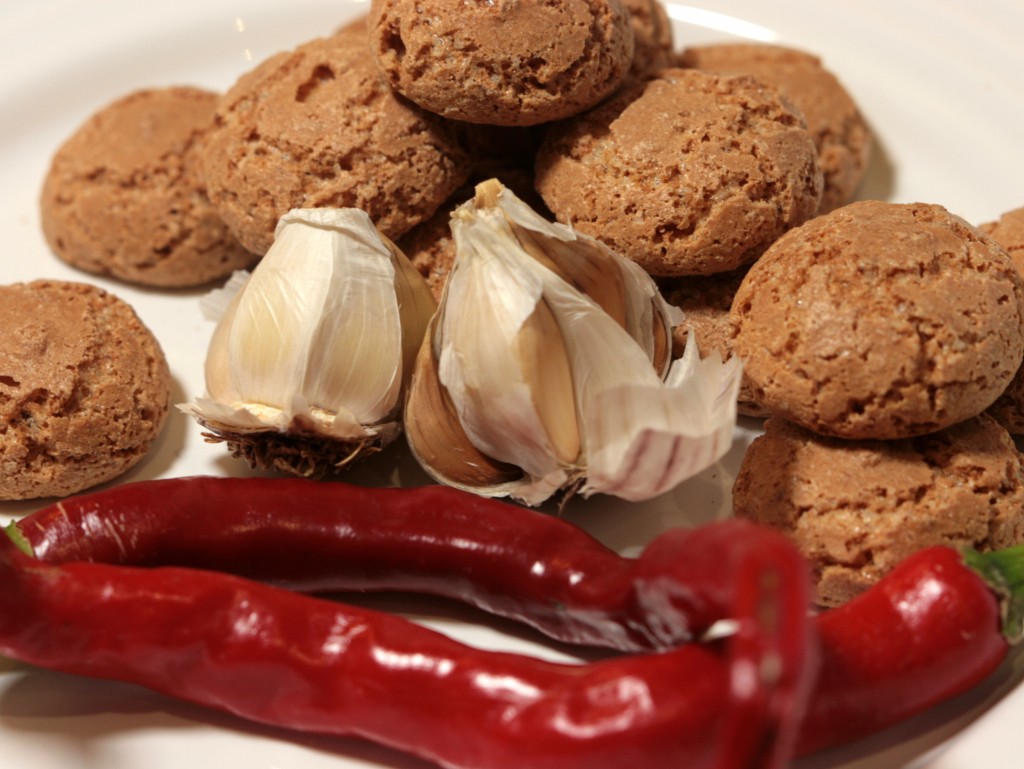 I'll confess that I wasn't planning to blog this recipe. However, the reaction of friends on twitter and the team here was so good that I had to share. And that's why there isn't a fab picture of the cooked dish: it got eaten before the camera could record it. Sorry.
I wanted to cook something special as a celebration meal for Debs's birthday. She had chosen mutton and I had a nice piece of leg from the folks at Field & Flower. I wanted to do something quite different with it. We love Moroccan style food and I was thinking of chermoula spices, dates and almonds. However, I did not have enough almonds to hand,  so I wondered if some amaretti biscuits would fit the bill. They did. And how.
The taste is a glorious mix of warm sweetness and spice with a tangy almond edge. It's rich and full and combines beautifully with the earthy sweetness of the mutton. The marinade would work equally well with a shoulder of lamb, slow cooked beef , chicken or game. In fact, I had lots spare and used it as a dip for the grilled tiger prawns we had to whet the appetite.
Do you want to know how to make this? Read on…
Mutton roasted with amaretti-date spiced marinade recipe
Ingredients
1-3kg mutton leg
120g stoned dates
1 aubergine, halved and grilled or roasted, soft pulp removed from skin
1 bulb elephant garlic, or 3-4 cloves garlic
80g amaretti biscuits
2 tsp ground cumin
2 tsp ground coriander
2 tsp smoked paprika
1 tsp fine sea salt
1 tsp ground black pepper
1 tsp (or to taste) chilli flakes
Rind & juice from 1 lemon
2 tbsp of plain yoghurt
Method
Put all of the ingredients apart from the mutton in a food processor or blender. Whizz it all up so you have a thick paste.
Make some small incisions into the mutton with a small knife. Smear and push the paste into the cuts and then spread thickly over the rest of the meat. Leave to marinade for as long as you can.
When you are ready to cook, pre-heat your oven to its highest setting.
Put your mutton into a casserole with a tight fitting lid and pour in about 100ml of cold water. You could also seal up the meat in a kitchen foil envelope so that no juices escape. I popped mine into an old Le Creaset Marmitout and sealed the lid with a couple of layers of kitchen foil.
Pop the meat into the oven and immediately turn the temperature down to 180°C. Cook for a minimum of 3 hours until the meat will fall apart when you touch it. Shred the meat and tuck in.
That's all there is to it.
We had this with a potato boulangere that had potatoes, onions, garlic, anchovies, dried oregano in it and a green salad from our garden.
Do let me know in the comments below if you try this and what you think.