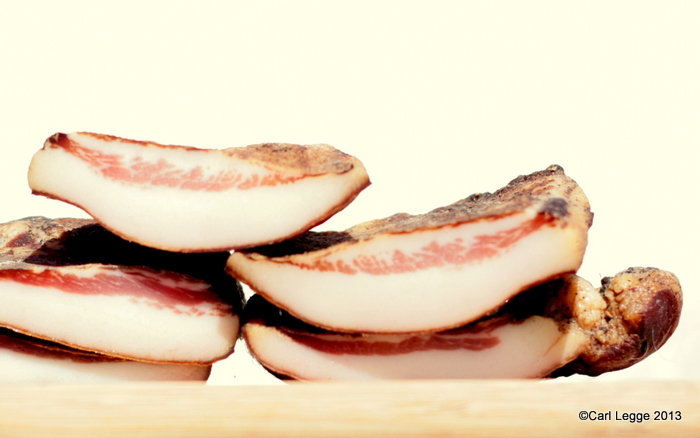 Guanciale is the perfect preserved pork. It's wonderfully versatile & tasty, easy to make, economical to buy & use and looks brilliant. What's not to like about that? You can see what I made in the picture above: I'm so pleased with the result.
Guanciale means "pillow" in Italian, the reason should be obvious. My first taste was courtesy of my friend and Italian food mentor Carla Tomasi who sent me some from Rome. It was a revelation with a deep porky taste. It's good raw, as a seasoning or a major ingredient in many dishes. When I got the Italian dry curing book Salumi for review (see here), I first searched out the recipe for guanciale. It's ridiculously simple. The authors say it is:
…one of the most magical of the Big Eight cured cuts [and] some of the finest and most versatile salumi…
At the end of February I was fortunate to meet Huw Roberts of Oinc Oink our very local award winning pedigree Welsh pork producers. At their stall Huw had brought along some pig cheeks on the off chance that they might sell. They did.
I rushed home and got out my copy of Salumi. If you want to find out how to make your own guanciale, please read on…