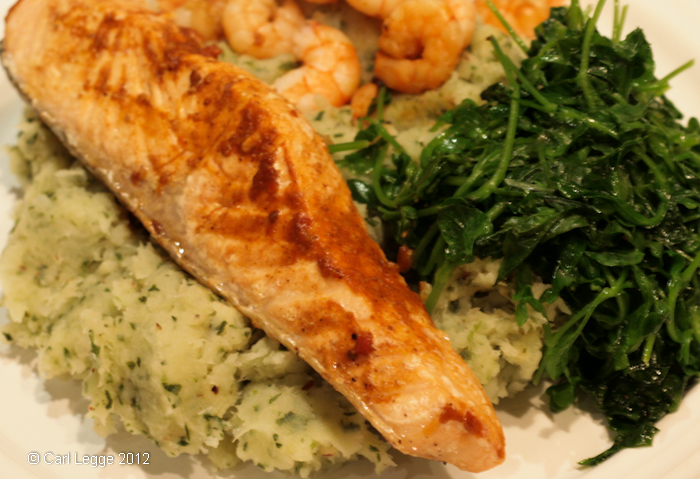 This meal started off as one of those: "What do I do with these?" scenarios.
Debs had made a gorgeous parsnip, cinnamon and lemon cake with some of our over-wintered parsnips. It was delicious. I had one parsnip left that Debs had not been able to use.
And I had cleared a space in our big polytunnel for a new kiwi 'Jenny' and for our tarragon.  (How posh is that, to have a big and a little polytunnel?) The space for these had a huge clump of chickweed in it that we'd been harvesting for ages.
And, of course, it's wild garlic time.
So I thought that the parsnip would make a really intense sweet/savoury mash with potatoes and wild garlic pesto. It did.
I gave the chickweed a good haircut. Then I just washed it, gave it a good shake and wilted a 2 litre pan full, covered and shaken for 2-3 minutes. I dressed it with my normal vinaigrette.
I brushed the seafood with a little harissa and griddled it on a very hot ridged griddle for about 4 minutes. I then turned the heat off and covered with a saucepan lid to leave it to cook in the residual heat and steam.
The whole recipe took less than 30 minutes to prepare and had a lovely contrast of colours, flavours and textures.
So the only thing for me to add is a recipe for wild garlic pesto. Read on… Continue reading »