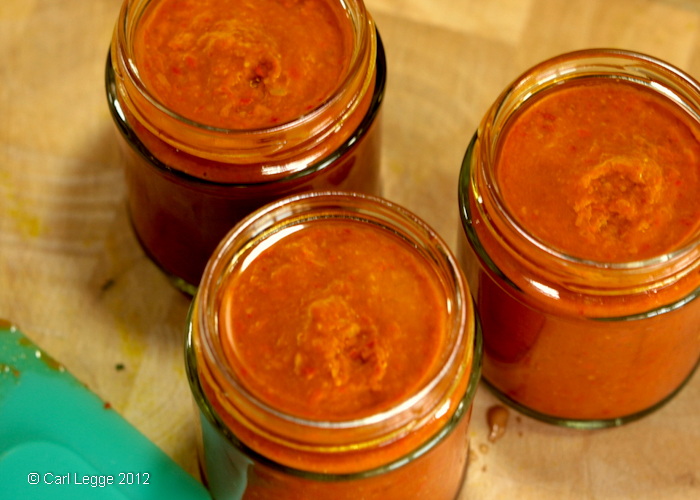 These are a blast for any chilliholic and will add a new dimension to the seasonings on any table. In the northern hemisphere, now is when we need to preserve green & red chillies. If you have a blender or food processor these couldn't be easier.
Chillies and tomatoes are arguably two of the most influential culinary exports from South America where they originated. Traders took them to Europe, the middle & far east from the 16th century onwards. Their use is characteristic of many cuisines. Harissa & schug are similar to some of the original salsas & pebre of South America.
They can be used virtually anywhere in your culinary repertoire. In soups or stews; as a rub on meat, fish & vegetables; spread on bread; as a dip, with hummus or felafel etc; or like a ketchup. On the left, the delicious snack my friend Tamsin made with the Schug I took as a present when we stayed with her & her family. Tamsin's blog is a cracking read too.
Harissa is a Tunisian/Morrocan red chilli paste seasoned with spices. Some variations include tomatoes too, which round out the flavour.

Schug (zhug  or skhug) is a Yemeni green chilli paste make with lashings of fresh coriander and seasoned with spices. There is also a red variant.
If you'd like to make these wonderful ingredients, please read on…
Continue reading »